Discover more from Yes Theory Community Newsletter
We are here to keep you up to date on what's been happening in the community and share some behind-the-scenes of Yes Theory!
Over 176,000 subscribers
Good to see you again!
Last week we did a wrap-up of what 2022 looked like within Yes Theory and the community at large. We showcased some of our biggest moments from the year that were made possible with your continued support of our stories, projects, and videos.
This week we want to share some sneak peeks of what to expect from us in 2023. As our newsletter subscribers you are actually some of the first community members to hear about these!
Editors' Series 2.0 Down Under 🦘
If you follow Yes Theory on Instagram you'll know that Cam, Diezavel, Tommy and Tristan arrived in Australia this week for the second Editors' Series! The response to last year's Editors' Series in Ireland was so overwhelmingly positive that we decided to send the team out again.
They have only been on the continent for a couple of days and have already attended the Babylon red carpet premiere (ft. Margot Robbie), appeared on Studio10's morning talk show, and hosted a meetup where the local Yes Fam welcomed them with open arms! Thanks to our friend and community member Trinity for helping coordinate.
Their adventures will be shared on our Seek Discomfort channel so make sure to subscribe! You can also watch (or re-watch) the Ireland episodes while you wait.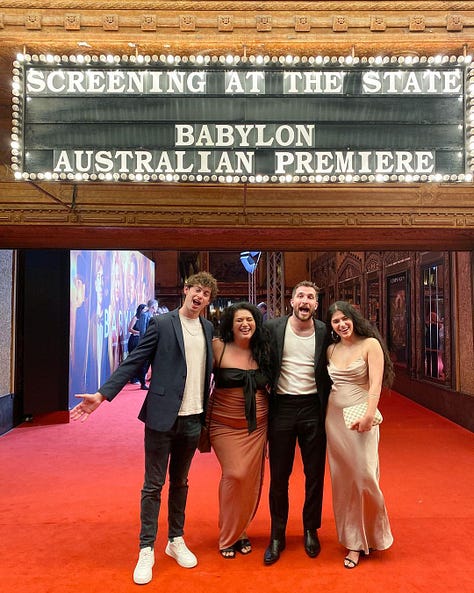 Yes Theory in Asia 🌏
Toward the end of 2022 we released episodes that Thomas filmed in Cameroon, Ghana, and Somaliland as part of our West Africa saga. As we showcased the beauty, intimacy and hardships of several cultures, we were so thankful that these stories and experiences resonated with you.
This year we will be travelling to Asia to create another saga dedicated to telling even more personal and authentic stories. Take a look at the Yes Fam Asia Facebook group if you want a hint about what countries we will be visiting.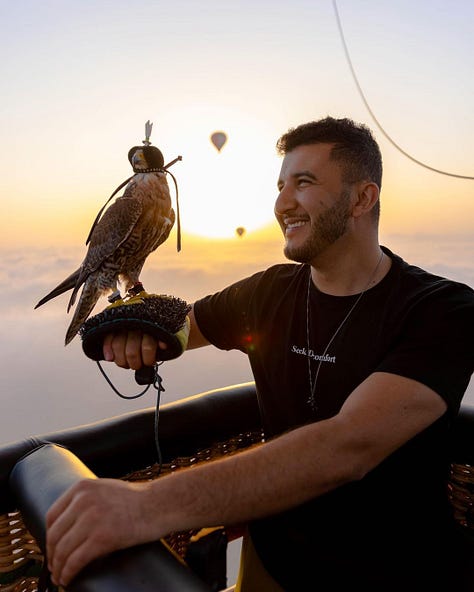 Apart from our regular filming schedule for episodes, you know that we always love tackling a variety of creative projects. We usually never announce our projects ahead of time but we are giving you a bit of an exclusive on what to expect from this year.
We're creating a Yes Theory LIVE cohort around How to Tell Purposeful Stories on YouTube! 🏫
What's a cohort? Well, in simple, really broad terms, a cohort is a group of people who come together to learn about a topic through a mix of live workshops and making creative work (more about that in future editions).
Over the last 7 years, we have gotten to live some enriching experiences as creators and really push our boundaries in terms of the stories we're able to tell and the ideas we go after. These adventures ultimately helped us learn about ourselves, find our amazing community, and determine what impact we wanted to have on the world.
Last year we realized we wanted to organize these learnings so that more people – the ones who are interested in telling stories and contributing their own creative voice – can make a living doing what they love and find their community too.
So, after a lot of thought and planning, Thomas decided to take it upon himself to design an immersive, community-first learning experience for creatives in the Yes Fam to learn the ins and outs of becoming a creator on YouTube.
You'll hear more about it very, very soon - he's super excited! 😊
The Yes Theory Book 📖
Yes, you read that correctly! We are going to be releasing the long-awaited Yes Theory book in 2023. Matt has been working his butt off writing an incredibly heartfelt and authentic book, which we can say with confidence because we were lucky enough to read a preview. Stay tuned to this newsletter for updates over the upcoming months.
Who wants to get a Book Club started in the meantime? 🙋‍♀️
The Yes Theory Podcast … maybe? 🎧
With so much already planned for the next few months, let alone the remainder of this year, it would be wild to even think about another podcast season. But who would we be if we didn't push the boundaries of our comfort zone! What do you think about it?
Leave a comment or reply to this email with the topics, guests, and stories you would like to hear. Would you be interested in coming on the podcast yourself? Tell us why!
The Yes Theory Fam group recently reached a special milestone of 180,000 members. That means 180,000 Seekers, Dreamers, and Believers who care about the world and the people in it. Want to get connected with them?
As a way to celebrate this great milestone, we are looking to revamp our current group banner and we are asking YOU design it! We will be choosing our favorite one with the help of the community. Email your banner design to community@yestheory.com
Empowering this Powerful Community
You have always blown us away with the events and meetups that you have organized over the years where the numbers have ranged from 10 to 50 to over 100! No matter the size, and whether online or in-person, we know that these connections have been incredibly meaningful. Seeing the community connect is one of our favorite things.
We always encourage you to dream big even if the group size is small. We know that many of you have the potential to go even further with a little bit of support, whether it is help finding a meetup venue or getting a deck of SPARK cards to play. We are currently in the process of developing how this is going to work and you will get to hear more about it in upcoming newsletters.
That being said, we know that sometimes it can be difficult to know where to start, especially when you have seen more established communities hosting larger-than-life events. For some of you the idea of planning, attending, or even thinking about a meetup with strangers might be overwhelming. This is why we are also working on a community guide that will help to ease some of these concerns, especially when it comes to planning local Yes Fam meetups.
The rest of our filming locations for the year have not yet been set so we want to know:
Where do you think we should go in 2023? What stories should we tell this year?
---
Thank you so much for reading and for believing in us!
None of this would be possible without you.
See you next week!