🔓You unlocked extra content!
This week's edition is jam-packed with surprises and includes the long-awaited video of a sumo match between Staffan and Thomas. This is never-before-seen footage that was unlocked exclusively by our Yes Theory Community newsletter subscribers.
Speaking of which, welcome to all of our new subscribers! Each week you will get access to this newsletter which showcases the latest and greatest highlights from the team, our YouTube channels (Yes Theory & Seek Discomfort), and best of all the Yes Fam community.
Just out of curiosity, let us know:
Let's get into it!
New video on the Yes Theory Channel!
You know that we love visiting the Blue Zones! We recently got to visit our third while traveling through Japan and it was an incredibly immersive experience.
For the first time in a long time, all of our hosts went on this journey: Thomas, Ammar, Tommy, and the newest addition to our team, Staffan! They were joined by cinematographer extraordinaire and our good friend Cory Martin. Together they learned about the secrets to a long life from the kind people of Okinawa, a prefecture of Japan.
Our favorite thing about Okinawa was the sense of community and how much we, as the Yes Fam, can learn from them.
Update on Seek Discomfort Video!
In last week's Seek video "I Made Friends Using a Message in a Bottle" our editors Tristan and Dez bonded with an amazing couple while visiting Santa Catalina Island.
Tristan's two new friends then came to surprise him to see his band (People R Ugly) perform over the weekend. The friendships formed during our adventures aren't just for the cameras!
So many lovely meetups have happened over the last week. The community has been around for 5 years and it brings us so much joy when we get to see all your smiles come together. We see many familiar faces and we are always so excited to see new ones too!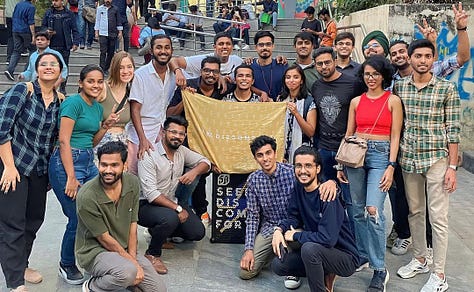 Upcoming meetups:
Vancouver, Canada: SPARK meetup (Saturday, May 13th) more info here
A Coruña, Spain: Surf Trip (22nd - 29th of July) more info here
Message us on Instagram to add your meetups in future newsletters
---
Big things are happening behind the scenes! We are excited to reveal them very soon.
We want to end this newsletter by saying thank you. Yesterday we officially hit 1 BILLION VIEWS on YouTube! None of that would be possible without all of you subscribing to our channels and watching our videos.
And also a big thank you to all of our Yes Theory and Seek Discomfort teams for their support, creativity, and contributions to the stories that we tell.
Lots of love ❤️
---
See you next week!