Discover more from Yes Theory Community Newsletter
We are here to keep you up to date on what's been happening in the community and share some behind-the-scenes of Yes Theory!
Over 176,000 subscribers
You may be confused why we're telling you not to buy our card game SPARK.
After all, it contains 200 questions to help spark meaningful connections in your life. Each SPARK box also includes a golden ticket which lets you access hundreds of Seek Discomfort adventures.
So what's the hold up?
🤫 You didn't hear it from us but there will be a special sale on Seek Discomfort's USA / International and European websites this weekend. If you were to buy the game now then you would miss out on their limited-time offer!
It will be worth the wait to expand your connections and card game collection.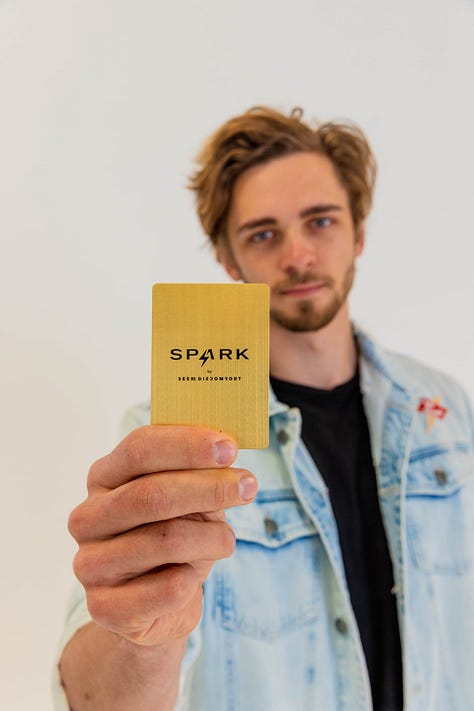 Help release this special content from the editors' vault!
A few weeks ago we told you that we had exclusive footage of a sumo fight between Thomas and Staffan. Most of the team hasn't even seen this footage, including us!
All you have to do to unlock it is reply to this newsletter with who you think won the fight: the tall Swedish guy with blond hair or the tall Swedish guy with blond hair?
Lots of votes have been cast for Thomas, as many of you believe that Staffan is a lover - not a fighter, but we may never know for sure unless we get to 500 votes. Send in your bet reply quickly: Thomas or Staffan?
We only get one planet. Let's take care of it.
Last week we hosted two special events in celebration of Earth Day.
The first was an online workshop where participants learned about sustainability, calculated their carbon footprints (without judgment), and shared the meaningful steps they were going to take to live more sustainably.
It was such a pleasure to see so many of you take time to participate and interact!
Thank you to Haley, our special guest from Sustainable Surf, who shared information about their SeaTrees program which plants, protects, and restores blue carbon coastal ecosystems around the world to reverse climate change. Seek Discomfort has been proudly working with SeaTrees since November 2021.
Our second event was also a special challenge. At the end of the workshop we asked you to Pledge to Say Yes to Earth Day by hosting a community clean up. We loved following along on Instagram and saw clean ups in Athens, Greece; Beirut, Lebanon; Nairobi, Kenya; Tbilisi, Georgia; and Hyderabad, India!
Here are some photos of our community and team members in São Paulo, Brazil and Santa Monica, California. Thank you for showing up for us and for our planet! 🌍
---
Make sure to stay subscribed to our
Yes Theory Community Newsletter
so you don't miss out on upcoming Yes Fam events. See you next week!